Qirui Medical is an ISO 9001,ISO 13485 and CE 0197 company which caters to the needs of medical supplies sector. The company is a reputed manufacturer and supplier of high class surgical sutures and surgical blades. Since its foundation in 2003, the company has successfully catered to the needs of its clients and many times it has supplied them beyond their expectations.
Quality & Infrastructure
The company cannot afford to be lenient on quality. It uses highly advanced and sophisticated technology to produce its products, as it knows that infrastructure forms the foundation for development. Its production unit is equipped with the state-of-art machines. Various scientific tests are carried out to check the quality of products. Entire process of production is carried out under skilled and responsible professionals. Safety and precautionary measures are followed.
Products
The company produces series of surgical suture needles,surgical sutures,and surgical blades.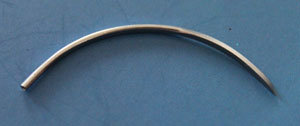 Clients
As an affirmation of our standards, surgeons in more than 20 countries across the world including Argentina, Brazil, Canada, Germany, Holland, Italy, Mexico, Middle East, Portugal, Russia, South East Asia, USA, UK, Taiwan,China are using our medical equipments with great trust. We are confident to cater to the requirements of global buyers.